Canteen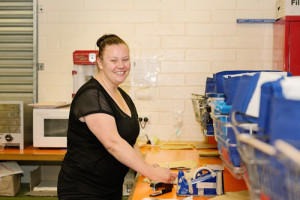 Our school canteen provides a service to the community by selling lunches and snacks on Mondays and Fridays each week of term.  Whilst encouraging and educating children to make good choices about what they eat and drink, the service also exposes children to the concepts of money transactions. The canteen operates as a service to the community and not to make a profit, in accordance with DECD guidelines.
Canteen Menu
The canteen operates in accordance with the Right Bite policy.  The Canteen Menu (PDF 264kb) is available for download.
Ordering Lunches
We encourage lunches to be ordered by using the Qkr! app on your smart phone.  With Qkr! you can:
Order and pay for your child's lunches, reducing the need to bring cash to school;
See your receipts on the app and get them sent by email if required;
Make payments anytime – 24 hours a day, 7 days a week.
Getting started with Qkr! is easy – click here for instructions.
Alternatively, you can write out an order and include lunch money in the brown paper bags provided in the classrooms.
Lunches are delivered to student's classrooms.
Sushi Pre-orders (Term 1 and 4)
During Term 1 and 4, Sushi is available for Monday lunches.  Orders must be pre-ordered on the Friday prior, for supply on Monday.  You can order using the Qkr! App or a manual order form is available here to be stapled to a lunch order bag and submitted to the canteen by midday Friday.  Payment must accompany manual orders.
Volunteers
Parents and volunteers operate the canteen in collaboration with Josie Hollow, our Canteen Supervisor.
Volunteers are needed for 2-hour shifts on Mondays and Fridays from 10-12pm and 12-2pm.
For further information on the school canteen or volunteering, please contact Carol Chataway (phone 08-8339 1073, e-mail  Carol.Chataway163@schools.sa.edu.au in the front office.
Canteen Review
In June 2016 the school community participated in a survey about our canteen service, a summary of the results of the survey are available to view here.  If you would like to provide any feedback about the canteen in general or the canteen survey results, please email the school who will pass on your feedback to the Canteen Committee.
Canteen Term of Reference
Governing Council recently adopted the Canteen and Uniform Committee Terms of Reference which are available to view here.