Crafers Primary 150 Fete
Saturday, 29 October 2016

WOW –WHAT AN AMAZING DAY was had by all who attended the Crafers Primary School 150 Fete. The smiles that could be seen all around were evidence of what a fun day it was!
We cannot thank everyone enough –the success of the Fete was due to the hundreds of pairs of hands of our wonderful and dedicated school community who put in tireless amounts of work to make it happen. Our goal of providing a fun-filled family day that brought together past and present students, to celebrate 150 years of Crafers Primary School, was achieved.
It was the groups who performed on the stage and entertained us with their beautiful music throughout the day and the teachers, parents and children who decorated and set up the wonderful stalls; grew plants; rallied volunteers; cooked food; baked cakes; gave up their household treasures & books; sold raffle tickets; pawed through 150 years of history; helped to set up (and pack up!); and provided support to the committee that made it such a huge and amazing success. Over 120 students and 150 parents volunteered in some capacity on the day of the Fete plus there were many more who helped out prior to the day. What an amazing contribution! Our promises to the 'weather gods' also helped, gifting us with a surprisingly hot, sunny day.
We made an amazing $16,000 profit that will help to bring forward school upgrades like the playground redevelopment. Congratulations and thank you to everyone involved.
P.S. We'd love to hear your feedback to help with planning for future events.
Fete Newsletters
Keep up to date with the latest information about the Fete…
Crafers Communique Edition 1
Crafers Communique Edition 2
Crafers Communique Edition 3
Crafers Communique Edition 4
Crafers Communique Edition 5
Thank you to our Sponsors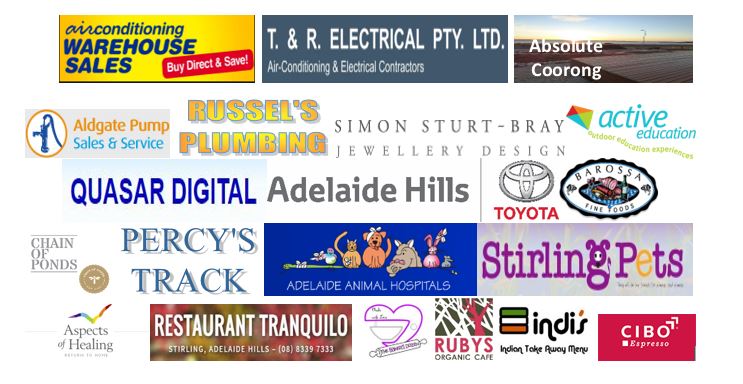 Thank you to these businesses for their generous support