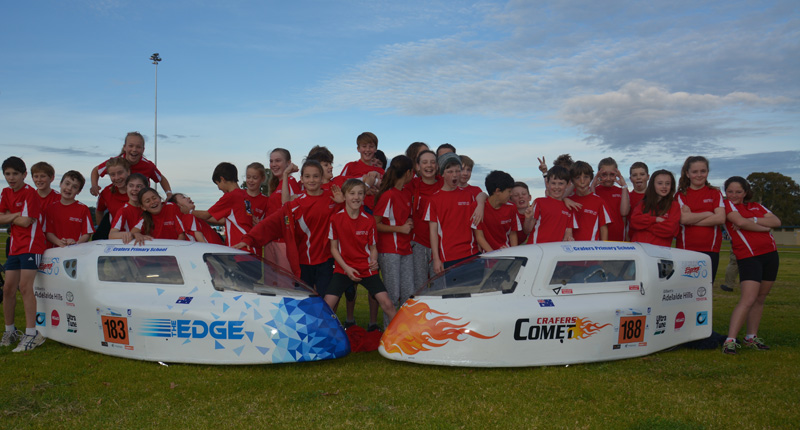 What is Pedal Prix?
Pedal Prix involves a team of keen year 6/7 students who participate in a series of organised races in three wheeled recumbent vehicles. Pedal Prix was introduced to Crafers Primary School in 2002 starting with two very basic second hand vehicles.   It has progressed to the school now owning three modern vehicles that compete in four Pedal Prix races each year.   There are three 6 hour races: two at Victoria Park in Adelaide and one at Loxton.  The season culminates in the main pedal prix race at Murray Bridge in September.  This is a 24 hour race that has over 200 teams competing.
Who can participate?
Pedal Prix is a voluntary activity.  It is open to all students in years 6 and 7.
What is involved?
It requires commitment and effort: the children train for three school terms, with fitness training before school two mornings a week along with weekend practice in the pedal prix vehicles about once a month.   While it is hard work, students find it incredibly rewarding from both a personal development and teamwork perspective and most importantly they have fun doing it.
Who runs Pedal Prix at the school?
Pedal Prix is coordinated by a teacher, and is run by a parent committee.  It is a great opportunity for families to get more involved in the school community.
We thank our generous sponsors
Crafers Pedal Prix team appreciates the ongoing support from our sponsors: Bicycle Express, Gilbert's Adelaide Hills Toyota, Ultratune Stirling, EFM, LJ Hooker Stirling and Diverse Installations.